Footwear - Field Sports/Cleats
The purpose of cleats is to offer traction when on soft surfaces such as grass, mud, or field turf.  The cleats or protrusions on the bottom of the shoe can also be called studs.   The studs come in different shapes, sizes, materials, patterns, and types.  This will vary not just on the sport but also the type of surface one is playing on and what position an athlete plays.  The right combination of surface and cleat type can improve performance in field sports. 
When talking about Kids and Cleats it is important that kids (and adults too) aren't spending too much time in their cleats.  Cleats are meant for practice and game conditions and really should only be used on the field.  We have all seen a youth baseball team go to a sports restaurant after a weekend game and half the team is wearing their cleats into the restaurant. This is not recommended for several reasons.  This is unhealthy for a kids feet as there is no midsole to protect the feet from the pressure of the studs and when walking on a hard surface instead of sinking into the grass, the studs are being jammed into the persons foot.  It is also bad for the cleats themselves as walking on hard pavement can wear down and damage the studs....and it's also bad for the flooring in the restaurant!  It is recommended that those playing cleat sports arrive in different shoes (sneakers, slides, or even crocs) switch to their cleats before going out on the field, and then switching out of their cleats immediately after they are done their game/practice. 
Not All Sports Cleats are the same: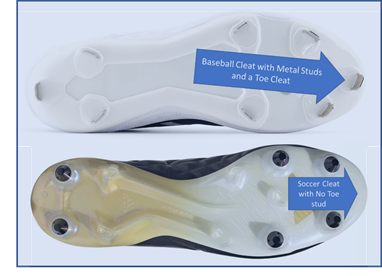 Different stud patterns and stud positions that varies based on the needs of the sport
Certain sports cleats are not allowed in other sports.

Example: Soccer

Soccer cleats do NOT have and are not allowed to have a stud/spike at the center of the toe

American football, baseball, and lacrosse cleats typically have a toe cleat and can NOT be worn in soccer and are against the rules!

Soccer cleats are the most versatile of cleats

You can get away with using soccer cleats in other sports so in a pinch or if there is financial concern people will wear soccer cleats in other sports BUT soccer cleats are NOT ideal for all sports