Membership - Scholarship Opportunities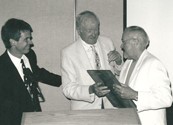 As you may be aware, AAPSM Founding Father, Robert M. Barnes, DPM, passed away several years ago. In honoring his memory and his contribution to the podiatric profession, the AAPSM - along with the Barnes Family - has established a student scholarship fund. Applications for this scholarship are open to students enrolled in a podiatric college and a member of its AAPSM student chapter.
The AAPSM is excited to announce that the upcoming scholarship will be open to ALL AAPSM Student Chapter Members.   Deadline for submission of completed application is Tuesday, July 2, 2018. Electronic submissions only. Winner will be notified by e-mail. Scholarship will be presented during the AAPSM Stand Alone Meeting September 13-16, 2018 at the Hyatt Centric in Fisherman's Wharf in Downtown San Francisco.  The scholarship winner will receive a $1,000 towards attending the 2018 Stand Alone Meeting.  For additional information about membership/scholarship submission, contact AAPSM Executive Director Rita Yates at ritayates2@aol.com or complete the student membership application and join today!
Corporate sponsorships and grants are vital to the AAPSM. The AAPSM supports the education of podiatric medical practitioners, public education, and clinical and academic research. We are grateful to our corporate sponsors for their assistance in achieving these goals.
Students interested in applying should fill out the form below:
* Required Fields