Membership - Scholarship Opportunities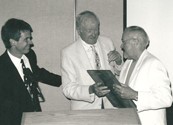 As you may be aware, AAPSM Founding Father, Robert M. Barnes, DPM, passed away several years ago. In honoring his memory and his contribution to the podiatric profession, the AAPSM - along with the Barnes Family - has established a student scholarship fund. Applications for this scholarship are open to students enrolled in a podiatric college and a member of its AAPSM student chapter.
Corporate sponsorships and grants are vital to the AAPSM. The AAPSM supports the education of podiatric medical practitioners, public education, and clinical and academic research. We are grateful to our corporate sponsors for their assistance in achieving these goals.
For list of student scholarship opportunities please contact Executive Director Rita Yates at ritayates2@aol.com.